HoC Foreign Affairs Report on Cyprus

AA Report to the UK House of Commons Foreign Affairs Committee (2005). AA submitted a comprehensive report to the FOC of the United kingdom Parliament explaining the short comings of the AnnanIV plan and in particular the affect this plan would have on the return of refugees to Ayios Amvrosios and for the restitution of their properties. The report was published in its entirety in the House of Commons report and its content was refereed on a number of occasions in the final recommendation report produced by the FOC for the consideration of the British Parliament
Ayios Amvrosios (Yrenia) – Book by Kyros Hadjikyros
This is the first edition of the book Ayios Amvrosios by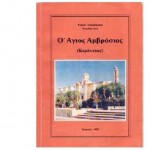 the teacher(legend) of the village Kyros Hadjikyros. It is a very good book that gives an inside into life in Ayios Amvrosios before 1974. All copies of this excellent publication have been exhausted but if you would like one a copy, please get in touch with the Secretary of AAA using the details in the Contuct us page and we will try all we can to find one from somewhere.
Ayios Amvrosios (Kyrenia) – Second book by Kyros Hadjikyros

The second edition of the book Ayios amvrosios by the head teacher of the lower school of Ayios Amvrosios kyros Hadjikyros. This is another excellent and much enriched account about Ayios Amvrosios and its people and it should be read by all. We believe that there are no more copies available for sale, but if you would like to borrow one to read, please contact the Association.